About Le Trip
Simply put Le Trip is an experience, an entry, into the real life and heartbeat of Provence.
Le Trip brings you to people and places that make the Provencal world go 'round. Scoping out the village garage sales for vintage treasures, a walk with the winemaker in his vineyard, a behind the scenes tour of a nationally prized chocolate factory, a visit to the distillery vats with the absinthe producer, and meaningful experiences of the sacred sites of France replace the too typical tourist buses, canned tours, and facades representing the real thing.
France is a rich and varied country and attracts visitors equally as varied. Whether you are the independent type, or like to be part of a party when traveling, or a little of both, Le Trip can match you up with the right combination of trip planning to make your time in France an experience we hope will give you memories to cherish for a life time.
About Jill
My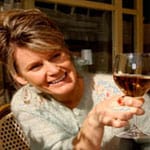 name is Jill Mitchell, and I am a lucky American living my dream in Provence, enjoying all sorts of adventures over here. Every passion must be shared and France is my delight and fascination. It has been my home since I first lived in Paris over 30 years ago. Combining my roots in my family winery in California, a profound love of travel, and my history with France, I have been professionally organizing wine tours in the world-class French wine regions since 1999.
It has been a thrill to bring fellow Americans to know the people and the stories of these regions, as well as the outstanding wines they are famous for. It was my work in the wine adventures that lead to the discovery of this fantastic place called Provence.
A soul connection with this part of the world was the catalyst that eventually saw me settle down here. I have since discovered a Provence that I would never have suspected as a tourist.
I see most tourists spending their time and resources on clichés, while missing out on what is truly essential to know and experience: that is the real Provence and the real Provencal people. And so it is my pleasure to offer journeys that are always fresh, dynamic and show off Provence at its best. Stimulating and heartfelt exchanges with the locals, a chance to be in touch with the beautiful nature, and of course, the famous Provencal lifestyle are at the heart of every Le Trip experience.
Vintage French objets have overtaken wine now in the Le Trip tours. While I continue to guide people in the vineyards and cellars of France, my focus is now on taking folks to the out of the way places where you can find absolute treasures for a pittance. The difference between the cost of these beautiful items here in France and what one would pay for them in the U.S. is striking, and if your play your cards right, the trip over can be paid for by a good treasure hunt. With the value of the dollar being what it is that is particularly good news!
Email me at Jill@leTrip.org and let me know your plans to visit France, and if you're just in the idea phase, let's plan something together!xt.