On the eve of my departure for the new vintage shopping season in France, my pops was on the local morning news to promote the Petanque Tournament he's holding at our family's winery, the Winery By The Creek here in California.
Check it out. He does his famous sabering of the sparkling wine bottle on live tv. You do have to go through some seconds of ad (c'est la vie in the USA, I suppose).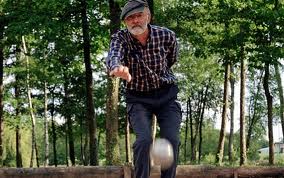 Petanque doesn't classically go with sparkling wine. Pastis is the drink of the occasion, but no one's going to mind.
If you're in the northern California area this Saturday, head out to the winery and have a ball! Tell my dad I sent you.
Next post will be coming direct from Provence. See you over there!!