Another repeat from the past – this was posted on Halloween 2011 the first time, so we're in a different season. But it's just as awesome in the spring. My group of ladies has arrived in Provence. Today was arriving on the continent and getting settled in the apartments, so no pix of us out and about yet. Tomorrow we start the day in this market. Back to the original post:
For this post I do feel like I'm coming across as gloating but hey, it's a beautiful place to buy your vegetables so I'm going to share.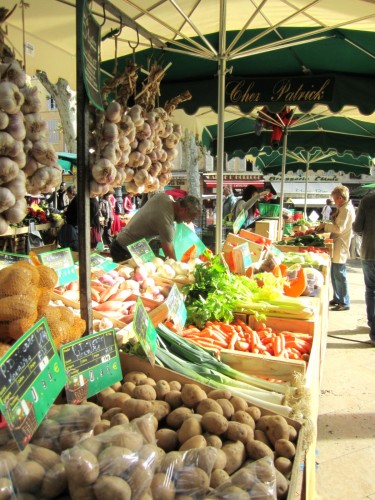 I'm so lucky to be able to come here.  It's the place Richelme in Aix, and I live a few blocks away.  This morning (and what a beautiful morning) I brought my bike and filled my bike basket with wonderful salad fixings.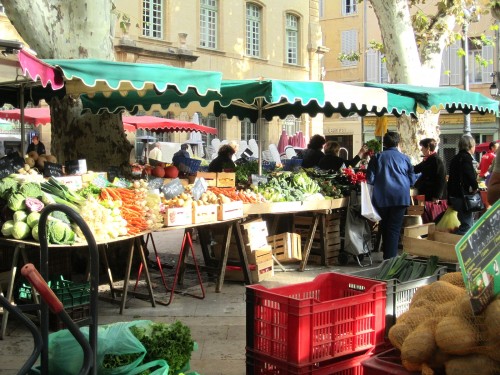 Got some goat cheese from Manosque.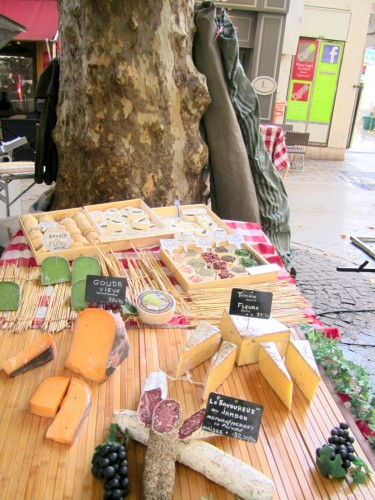 The marché in Place Richelme has been going since the 14th century.  These days it's every day, even Sunday, rare for a French market.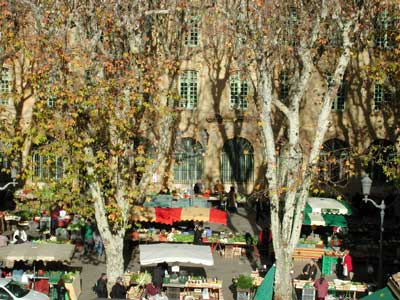 Here's a picture I got from the web.  Today there were less vendors as usual, has to be due to the long holiday weekend – it's All Saint's Day tomorrow and, lots of commerces in France are closed down.
Tomorrow friends are coming into Marseille on a cruise ship.  I'll bring them to this market and the bigger market that takes place in Aix on Tuesdays.  Then off to Les Baux de Provence for olive oil tasting at Castellas (supplier to Williams Sonoma)  and a visit to St. Rémy.
A bientot!