Hi All! Get some inspiration from DIY Natural and save some dough, gas, and the planet this Christmas.  And here's my old post from four years ago with some upcycled elements. Cheers, Jill
=====
I am so excited to have found something to do with my large collection of plastic shopping bags.  Thank you so much,Ez, at Creature Comforts for the great post!
If you are green,  like me, or into crafts, like me, or don't have store bought bows around (these are more clever anyway) they make great toppers for your vintage presents.  My French boyfriend, though, doesn't dig this.  He said he wouldn't want to be given "trash" as a gift.  I would LOVE to receive this, so I guess the moral is think about the future owner of your gift and his or her perspective.
This is the result of having my way with a cute French toy shop bag.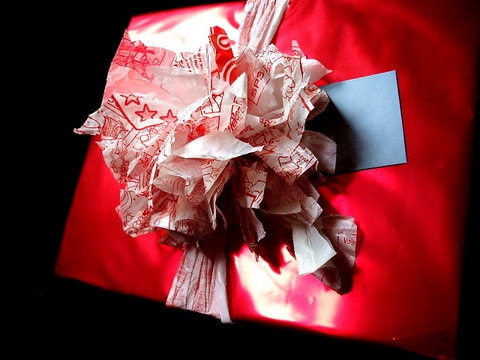 Here's Creative Jewish Mom's lesson on making one of your own.
And this is a nifty way I discovered last weekend while at Chateau d'Estoublon doing some Christmas shopping with Pascal.  This is how they wrapped a fig concoction – it's so pretty and you can use all natural products to wrap with: actual fig leaves or else recycled green paper and raffia.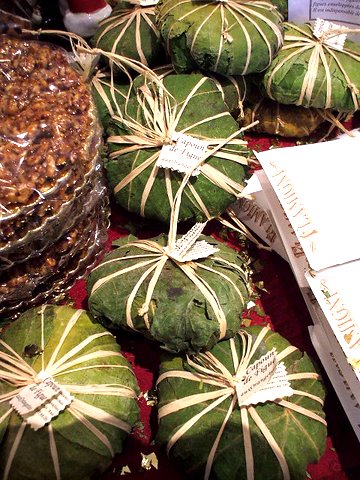 Anoother green idea from the chateau: use branches in your light fixture to dangle Christmassy items.  I used to do this at our family winery for the big winemaker dinners.  Adding decoration to a hanging light fixture is really fun and makes a fantastic statement.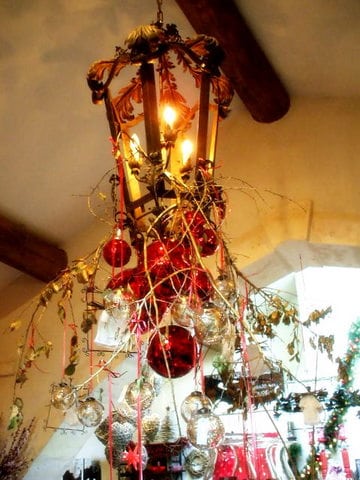 On your next visit to Provence, if you are near Les Baux de Provence or Arles, this place is a nice destination for wine and olive oil tasting in a castle.
Tomorrow, if it doesn't rain, I will go to the Christmas market in Aix en Provence and get some pix to post over the weekend.
Ciao for now!