Going back in time now from Italy Part 1, the first nite of our Italy stay we spent just outside Bologna in one of my favorite places to go.  It is a guesthouse and restaurant – Sorsimorsi is the restaurant and Il Bucchi is the B&B.  We have been coming here for the last three years – it's our place to stay for the Beauty Convention.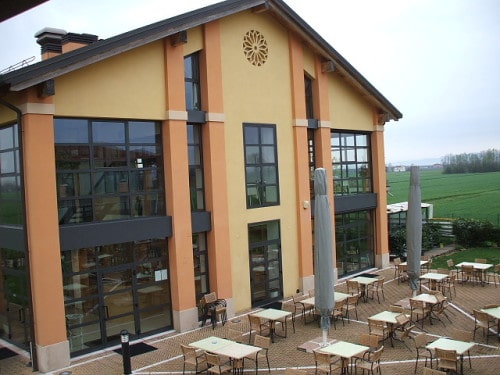 One of my favorite restaurants, Sorsimorsi
Each dinner I have had here becomes a dear memory.  The food is so good that it brings me to another realm of food appreciation.  Each wine I've had ranks among the best I've ever had (high praise coming from someone in the wine business for years) – ably chosen by Moris, the owner who speaks great English and is a conoscitore (connaisseur in Italian, I think!) of wine and cuisine.   He and his lovely girlfriend are also about as charming as anyone can be, so time there is really special.   We made a point to arrive Friday evening in time to have dinner there.
Each year at the same time of Cosmoprof, there is a wine festival in Verona – I haven't been able to go yet because we always have to be at the beauty show, but Moris went.  It's a great idea for a desitnation for you Italian wine buffs.  And by the way, if the idea of an Italian wine guide for your next Tuscany trip appeals to you, I know a crème de la crème Italian wine guide – send me an email and I'll hook you up.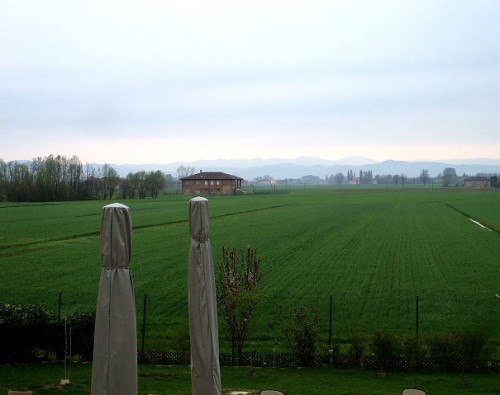 The view from our room at Il Bucchi
So we had a great evening at Sorsimorsi, and woke up early the next day for the commute to the Bologna Convention Center which was occupied that weekend by Cosmoprof.  This was the first year that we didn't have to set up our own booth (yay!) for the perfume, Absolument absinthe, because Pascal's Italian importer did that this year in the Masterpieces Showroom.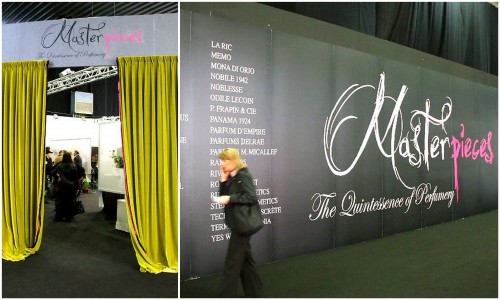 Behind the green curtain: Masterpieces – fabulous perfumes!
Cosmoprof is out of this world.  Imagine a beauty convention that is the place to be for anyone and everyone in the world in the beauty business.  Think of anything you would buy to care for or improve the look of any part of your body from your head to your toes, and you will find hundreds of companies that supply it at Cosmoprof.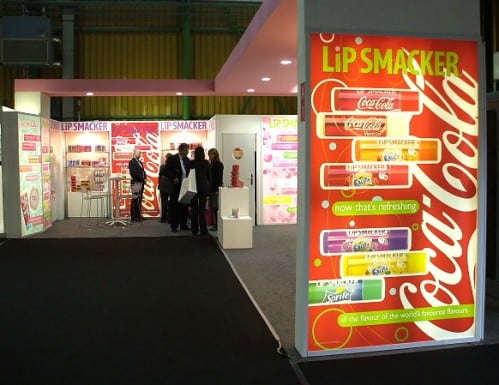 All aspects of hair care, anti-aging, anti-cellulite, teeth whitening, fingernails, perfume, make up, tanning, skin care, massage, weight loss, etc.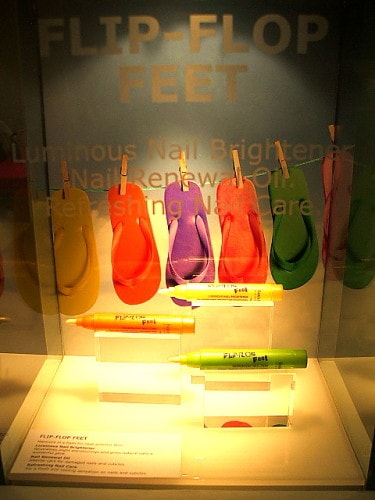 And the businesses that have booths (some "booths" cost a few million euros) run the gamut from the occasional snake oil producer to the most respected institutions in fashion and beauty.  There are dozens of huge buildings that house booths of the same theme: organic, space age machines, hair, packaging, make up, etc. as well as groupings of nations.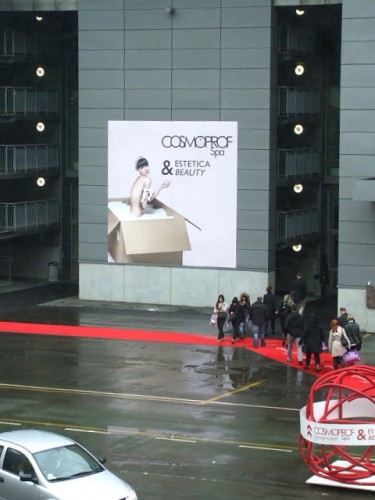 The first year I went, I was a kid in a candy shop.  Many booths offer free treatments, so I was running around lining up appointments for the whole weekend we were there. It was incredible.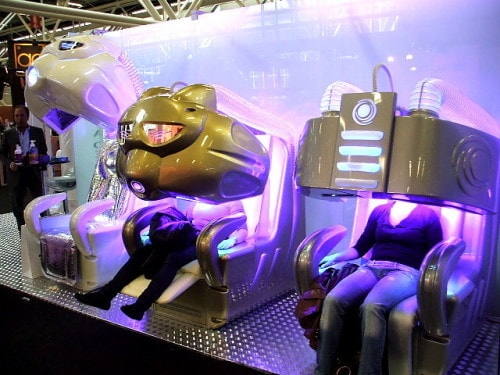 There was so much innovation on one hand (like space age machines you lay in that tone you), which was fascinating, or you could go for traditional or organic, plant-based methods.  I have sensitive skin and Pascal thought I had done a few too many skin treatments.  He said I looked like this at the end of the day.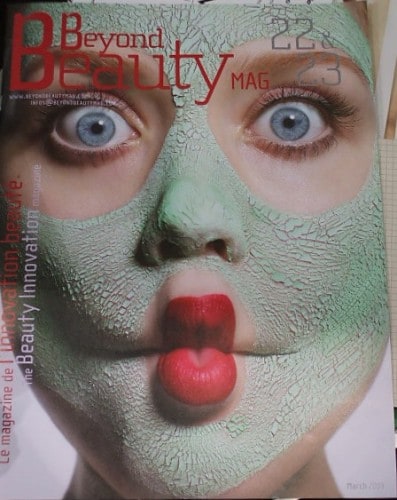 This businessman got tempted by a freebie too.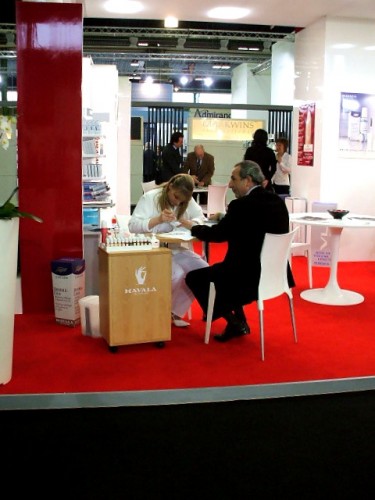 Christmas 2007 I picked up a few pounds that I am still wrestling with.  And I am taking it seriously now – doing anything I can to take dominion over my weight, so I had no shame in asking the distributors of this body mass analyzer if I could please try out their machine.  We didn't speak a common language except the language of body mass.  They were very nice and showed me how it worked.  I got on shoeless and held the two rods.  Moments later a computer print out (which can come in multiple languages including Chinese) told me what I was made of.  I think you can read it for yourself (fingers crossed you can't).  Too much fat and not enough muscle.  Haha, but all that is changing!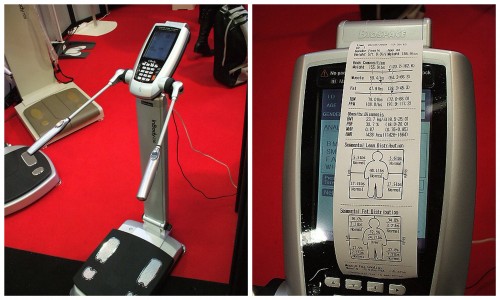 This year was different than past years, though.  The shaky economy was very felt and the show didn't compare to the boom years.  Many regular exhibitors didn't come at all and the bigger companies had booths an eighth of the size they had earlier.  Non-professionals can visit the last day of the show, so if you are ever tempted to come, pick a year in an up economy.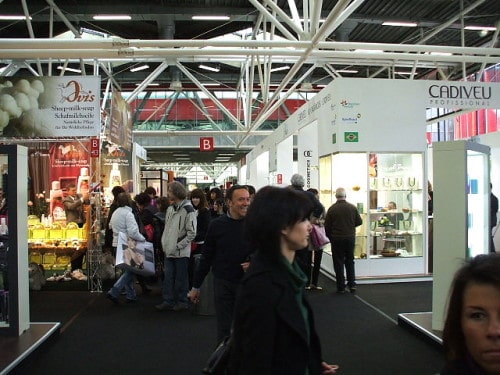 This year we didn't get to Bologna center, which is soo beautiful.  I got lucky last year and hit a vintage outdoor market right in the middle of town on a Sunday morning.  I don't hear Americans talk of Bologna much but it is extremely beautiful and elegant.
Speaking of vintage, we were driving by this shop in a little town, and I pleaded Pascal to break (he doesn't share my passion for old stuff).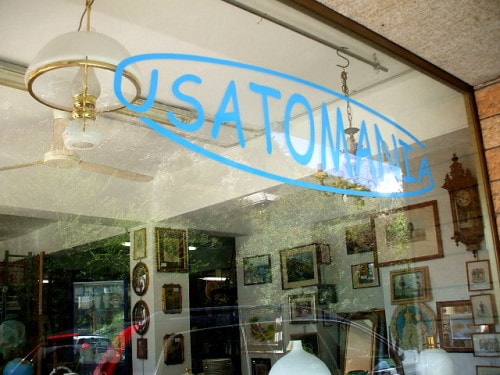 "Usatomania" UsedMania sounded like I could find treasure, but it sucked.  Nothing the least bit attractive and so expensive.  The market in Bologna had beautiful stuff, but the prices were way higher than in France.  I have learned that vintage in Italy is pricey and you just don't find the bargains you can in France.
Here's another side of the building in case you ever want to try your luck in Italy – if you see a Mercato Dell' Usato, check it out!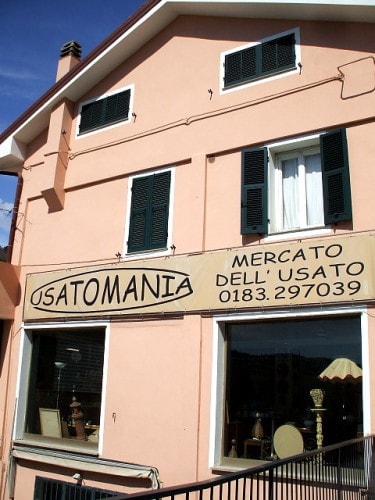 Until next time – bon weekend!