I came across some sweet looks and ideas at the show.  A few for your consideration: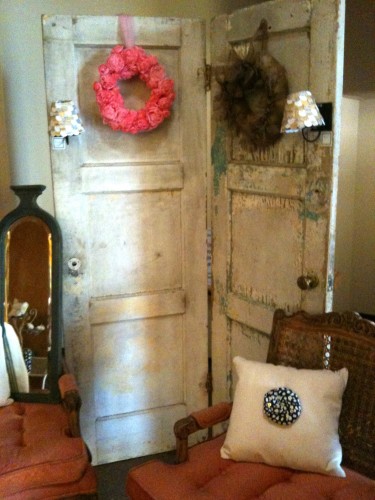 From Just Cuz Creations in Napa Valley.  This would make a neat dressing screen for a big bedroom.  And I love the idea for market displays – all the merchandise you could hang from them.  Just find some pretty old doors and add hinges.
Another homespun idea for decor and organizing: take an old cabinet and turn it into a jewelry organizer.  Just pound in some nails and presto.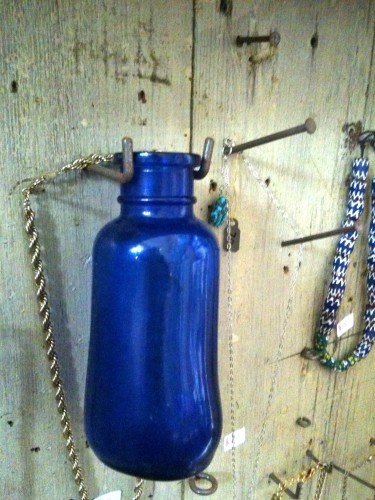 Imagine a little fresh flower bud in this blue bottle.   I like the cubbies added on the bottom, too.  This is a creation by Lela Shields of Trouvé in Marin County just outside of San Francisco.  You can visit the shop in the charming town of Fairfax.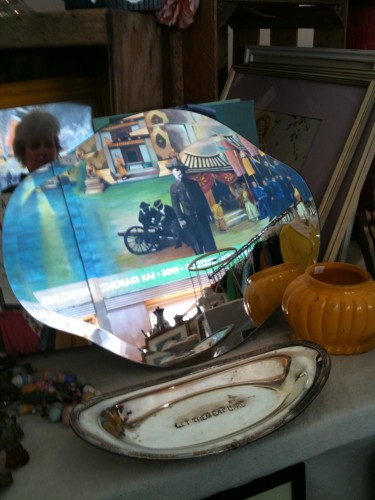 The colorful object above is actually a mirror reflecting the mural across the room in the Treasure Island administration building.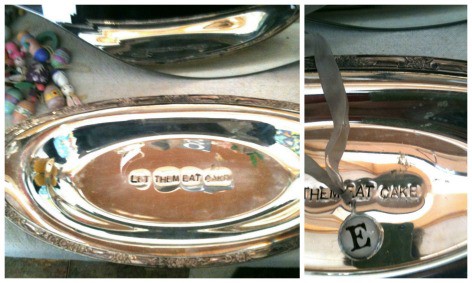 It drew me to this Let Them Eat Cake tray creation by Tama Star Handmade  (clever).  Which then led me to her pretty typewriter key jewelry.  I bought my buddy Elizabeth this pendant.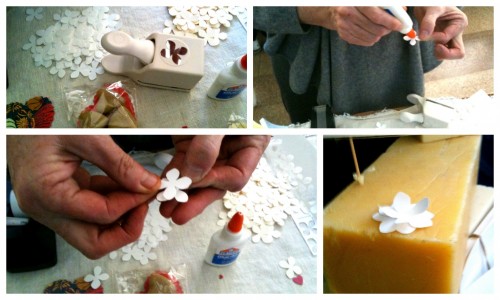 For you crafters, Allysyn at Artha Soaps (check her out for fantastic handmade hemp soaps!) was making these delicate paper flowers with her Martha Stewart craft punch.  The beauty of the punch is that the petals are irregular and so make some sweet results.  Allyson added a bead of glue between each of the layers – let the glue dry a little to create a tiny bit of space between each layer.  Fold up the petals on the top layer for more dimension.  Results are more darling than I could capture in the pic.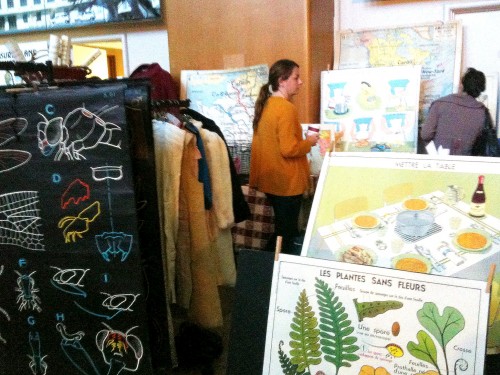 Oh and for the most fabulous wall décor, nothing beats French Vintage School Posters.  That's my booth.
Next post – the characters you meet at the Treasure Island market. 
By the way!  I'll be selling at Alameda this Sunday.  Booth to be announced early Sunday from the market.  Keep an eye on the Le Trip facebook page Sunday morning  for the booth number.  Come down to see the new exciting addition to my booth…..