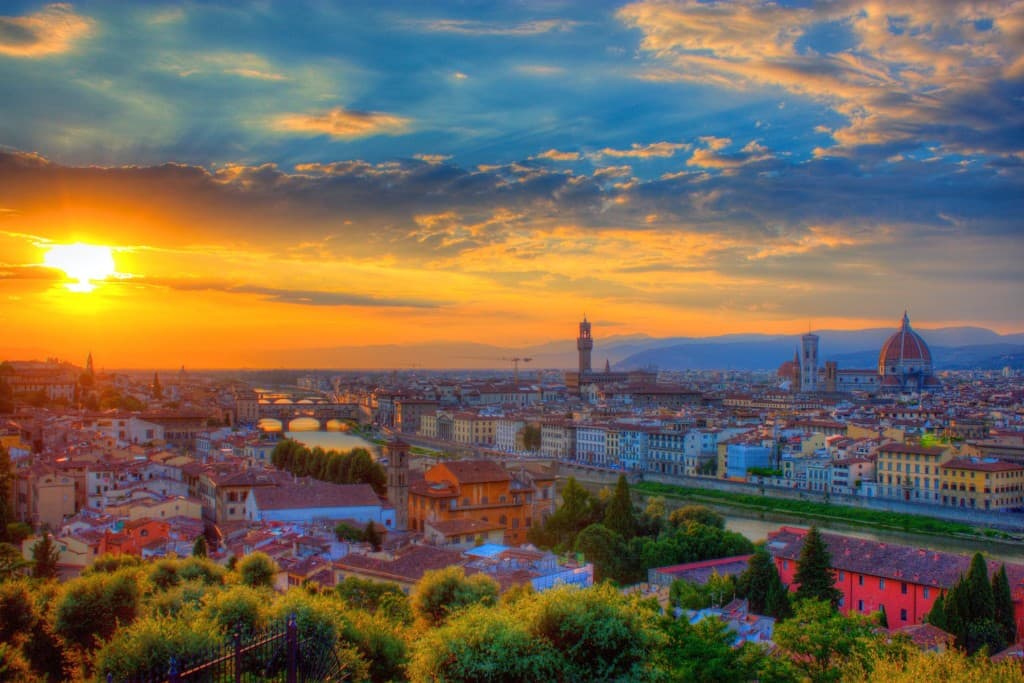 I'm here!  Wow, already nearly a week in and it's even better in Florence, in Tuscany, than I'd heard about.  It's the Italian equivalent of Provence, my soul region.  My clients have been asking for tours of Italy for years now, so I've dived in to immerse myself so Le Trip can expand into Italy.
Le Trip has already done a couple of wine tours in Italy in the past (in Tuscany and in Sicily).  But to give the Le Trip flavor to future tours, I need to know the region more intimately.  Hence the whole month of April I'll be here in Florence.
I've come here through the auspices of an Italian language and culture school.  They set up lodging for me, which is with an Italian family.  I got here to discover three generations of Florentines under one enormous apartment roof.  My contact person, Giovanna, is a fabulous person who must be at least in her 70's and has as much charisma and energy of anyone, any age.  I love knowing women like that.  Gives a girl hope for the future.  When she walked me to school the first day (yes, I'm a school girl again) she went so fast that I had to really focus to keep up pace (and by the way, my legs are much longer than hers).  When we reached the crosswalk at a very busy and fast 6 lane boulevard, she ran faster to catch the light and beat the oncoming traffic.  New bucket list item – have a vivaciousness going into old age.   I think it's got to be one of the most important goals one could have.
Giovanna's husband, Gian Paulo is a man of few words.  (Neither of them speaks English.)  He didn't have much to tell me except to make sure that I don't waste hot water, to be sure I shut off the lights, and that his daughter, Francesca, is a lawyer.  Nice to be proud of one's daughter.  The third generation is Francesca's children, Gabriele a little boy I get to have breakfast with every morning, and his sister whom Ive yet to meet.  Gabriele is ultra charming and a jokester.  We also have living with us Jek (Italian for Jack or Jake?  Haven't gotten to the bottom of that one yet), a great dog wth whom I've struck up a nice friendship and by the way, more on the doggies in Florence coming soon.
So the title of this post, the tomatoes…. it was about when I was trying to buy a bus ticket from Siena (I made a three day detour from Rome airport to Florence because I had a few days to "kill," i.e. take in a breathtaking Tuscan city at my leisure before classes started.) that I realized I had been cocky at the outset about how quickly I was going to pick up the Italian language.  See, I had already studied it for a semester or so, I am bilingual French and I've been learning Romance languages since I was four (Mom was a Spanish teacher).  I somehow made the classic Yank mistake of thinking I could just add an "o" to the end of words I knew (in this case French words) and pretty much figure out the language.
Well, it dawned on me as I was speaking a ridiculous Italian to the bus ticket lady in Siena, testing her patience in a fairly sustained way,  that learning a new language might be taking on a little more than I'd reckoned.  But it was when she told me the ticket for the bus to Florence costs 12 tomatoes (dodici pomodori) that I realized I may have been a bit…cocky.  And I was.  (In fact, the stressed out ticket lady was telling me the next bus was at 2:10 in the afternoon (il pomeriggio).
Ive now completed three out of 20 days of intensive Italian classes.  It's an honor to study this language that was born in the region which gave the world the Renaissance, the age that took us out of the Middle Ages and into the light.  And you can tell there was something enormous that once happened here.  Something that rocked the world in a beautiful way.  There's something in the air, and in the mythical buildings, and in the displays of art, the statues, the relaxed, open, and elegant way of the Florentines….
Ive been so busy with school and the very social student life here that Ive not yet started to get a grasp of the city or of the art here.  The pace is, wow, something, and there's a whole gem of a city and then the region of Tuscany, its history and culture to really get a feel for.  I hope to sustain the pace and also check in here at the blog at least every Wednesday.  I'll also be checking in more frequently on Facebook with little blurbs and pix.  Join me there!  Is Tuscany on your bucket list?  Anything in particular you've daydreamed of seeing or doing here?  Want to know when the Italy tours will start rolling out?  Let me know in the comments!
Until next time!