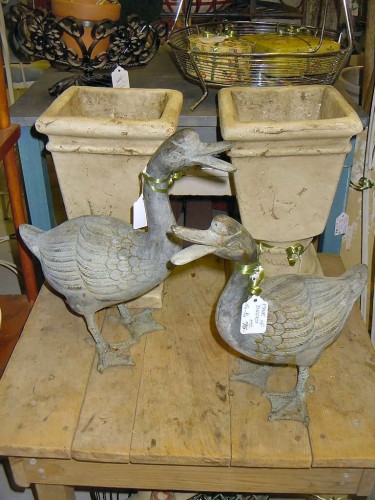 Today is When in France Friday, but this special post is to let you know of a terrific place to shop in the Bay Area.  It is only open one weekend a month and this is the weekend for May.
 A Room With A Past is a remarkable business concept and a great place to search out one of a kind, and sometimes jaw-droppingly low prices. 
Susan is the owner, a dynamic and terrific woman.  Her business is a sort of warehouse turned staged showroom of shabby chic finds for the month.  Different spaces within the warehouse are run by individual vitnage devotées, however the whole larger space seems to flow seamlessly together.
They focus on keeping the displays fresh and interesting.  The items themselves do not usually last more than a couple of days, and each weekend you walk into the place, you'll find a whole new room to behold.
I found the furniture in particular to be fantastic and the prices are not to be beat.
Her business, even in the darkest days of the current economic crisis is fully booming.  Susan seems to have found a recession proof activity.
No wonder, it has all the right ingredients: prices that everyone can treat themselves to, a treasure hunt feel, and the space has become a bit of a social destination for the locals.  Even not so local: Susan told me that some drive a few hours round trip for her weekend sales.
The buzz has been caught by the San Francisco press, both tv and print.
Check out her calendar, if you are a vintage addict like me, time your next visit to the East Bay (Walnut Creek to be exact) with one of her weekends.  And say hello to the lovely Susan for me!